As a football coach, you're always trying to find ways to give yourself an edge up on the competition. Whether it's trying new personnel, adjusting your game plan, making riskier play calling, or adjusting your training every coach wants to find a way to win night in and night out. In this article, we're going to talk to you about competitor analysis software and how it can help you to not only focus on how you train but more specifically how it gives you an edge against your opponents. RII Sports Technology offers video analysis software that can help you become a better coach and help to lead your team to victory.

Click here to check out the RII Sports Gamebreak Scan today!
---


"...I just can't imagine a team not using it (Gamebreak Scan). I think it's really the way of the future and what we're all going to be moving to."
-
Tom Tonelli, Assistant Coach at Columbine (Colo.) High School
Click here to see more testimonials
---
What is video analysis software?
Video analysis software is a product that is built to help coaches, players, and other personnel better organize and break down their in-game videos. There is quite a large number of video analysis programs out there to use and each differs slightly, but for most programs (such as those offered by
Hudl
and
Vidswap
) they take your film and break it down play by play and offer you an easy to use platform where you're able to watch individual plays, create highlight packages, review your game statistics and send any relevant clips to others. This can help save you a ton of time because rather than having to go through an entire game film you'll be able to use their interactive programs to look for specific plays. For example, if you only wanted to view offensive plays on the 3rd down you simply select that play and in an instant, you'll have all of those plays available. By helping you to save time and being more efficient than watching an entire game film, you'll be able to track your teams strengths and weaknesses on a much more elevated level than before. If you'd like to learn more on the benefits of video analysis check out
this article
on
Livestrong.com.
Can I use video analysis software on my opponents?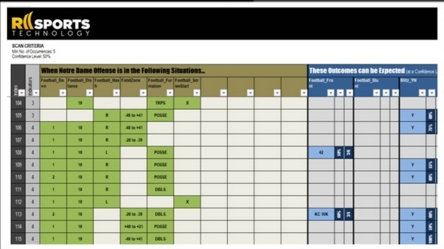 Absolutely. In fact, many coaches spend more time watching their upcoming opponents game film than they do studying their own team so video analysis software can help greatly in this area as well. You would basically use the software in the exact same fashion as you would for your own team. Video analysis breakdowns will provide you with the team's stats, and they highlight each play as long as you're able to provide them with film from their previous game. When reviewing an opponent's game break down, you'll want to look for tendencies in their play. If you find certain tendencies you'll be able to expose them during your next game, giving you a huge advantage on the field.
Is there any software out there that breaks down my opponents tendencies for me?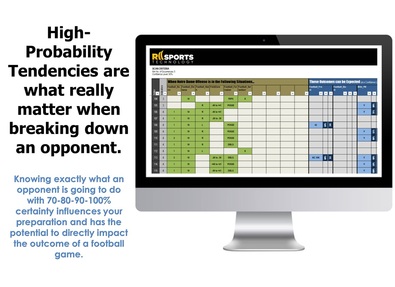 This is our speciality here at RII Sports Technology. While there are plenty of video analysis software programs that give you a great breakdown of your game film that helps you to save time, they all lack the ability to provide you with tangible data that analyses your competitors tendencies. This is where we come in. We have created a program called the
Gamebreak Scan
which is able to take the breakdown you receive from companies such as
Hudl
,
Vidswap
and
Krossover
and provide you with a full report of your opponents tendencies. Our breakdowns are incredibly in depth and based on specific situations. For example, the scan breakdown will provide you with your opponent's tendencies on 2nd down, inside their own 20, with 10 yards remaining. Often times you'll find that your opponent's upcoming play can be predicted with anywhere from 50-100% accuracy which allows you to counter their offensive attack with a defensive formation that gives you the best opportunity to shut them down. Just like in a game of chess, if you can predict your opponent's next move in football you'll achieve a much higher rate of success.
Conclusion
Using video analysis software such as RII Sports Technology's
Gamebreak Scan
can help to take your coaching abilities to the next level. Whether you use it as your sole video analysis tool or in combination with others you'll find instant positive results for both you and your team.