Everyone wants the latest tool that will help to give you a step up on the competition, resulting in winning games. Tools that deal with in-depth team analysis are a fantastic way to achieve more wins. In this article we're going to walk you through some of the ways you can use a RII Sports Dashboard to give you fantastic insight into your own team and your opponent's team that you may have never noticed. If you'd like to play around with an interactive
Dashboard
you can
click here now!
​
"Our GameBreak Dashboard was a tremendous asset to our championship run in 2013. The speed with which we were able to accurately identify opponent tendencies dramatically improved. We especially increased our Third Down and Red Zone efficiency by utilizing the information we obtained."

Brian White - Offensive Coordinator - Rose-Hulman Institute of Technology
​
So what is the Dashboard?

The RII Sports Dashboard is a fantastic user friendly interface that allows you to play with the data that will be provided to you by the
Gamebreak Scan.
You can quickly and comprehensively study the data that is provided to you in an interactive display that can show you a team's tendencies, strengths, and weaknessess all on one single view. This is the dashboard: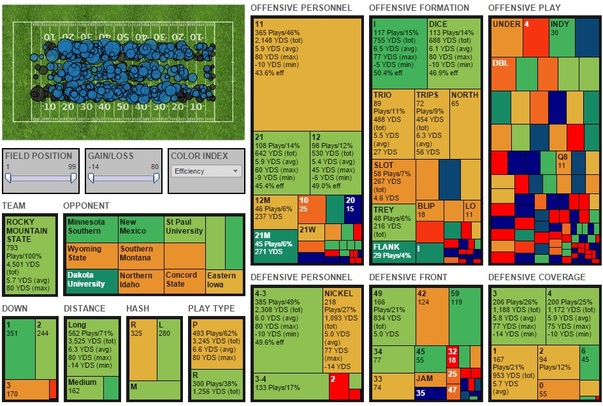 As you can see the
Gamebreak Dashboard
covers a very broad selection of options for you to interact with. In this article we'll show you some examples of how you can use the Dashboard so that you can understand how using football analytics can really help to improve your game.
A Look At First Down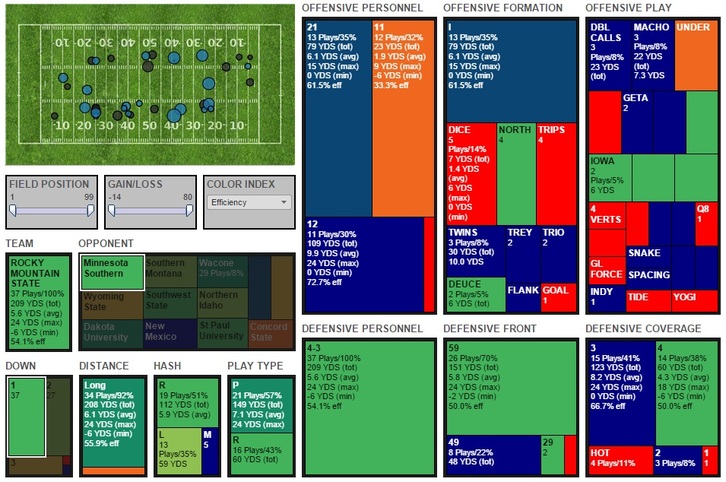 Here we have selected 2 options on the interactive
dashboard
screen. First, we've selected Minnesota Southern as our opponent, and that we only want to look at plays during the First down. As you can see, this has already provided us with some incredibly valuable information. For example, we see that Rocky Mountain State had a tendency to run a passing play type slightly more often on the first down, and we also see that they line up in I formation 35% of the time. Now we can actually take this a step further to learn more.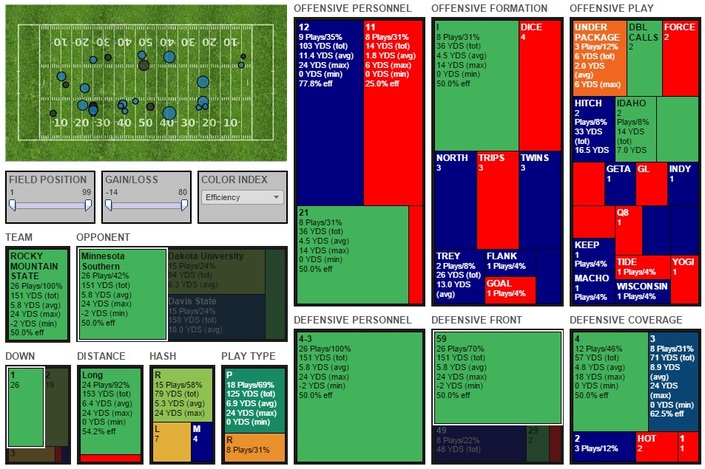 Here we have also selected the Defensive Front of 59. Here we find that their offensive personnel have dramatically different results against this front despite being run equally. Offensive Personnel 12 averages 11.4 yards per play, while offensive personnel 11 averages only 1.8 yards per play. If you know that a team is using the defensive front 59 quite often on first down (which they are at 70%) then you could easily deduce that offensive personnel 12 should get a majority of the plays. Now let's go back and take a look at some common defensive personnels and how Rocky Mountain State fares against them.
​
Nickel, 3-4 and 4-3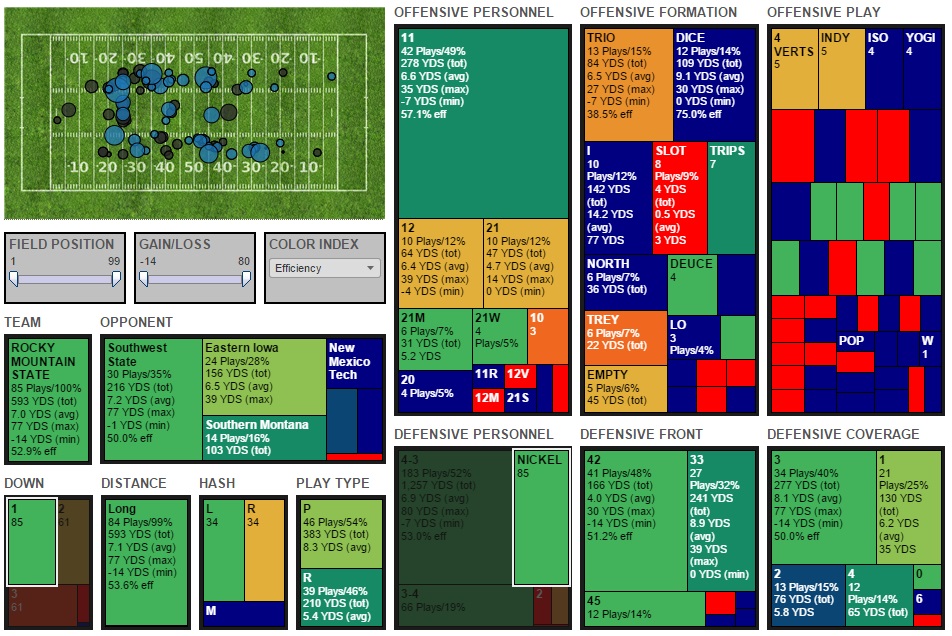 Here we have selected all opponents, 1st down, and facing the Nickel formation defensive personnel. As you can see easily from the Gamebreak Dashboard, both offensive formations Dice and I have produced very well against the Nickel formation, both averaging over 9 yards per play. On the other hand, the Slot formation seen in red has performed very poorly at only 0.5 yards gained per play.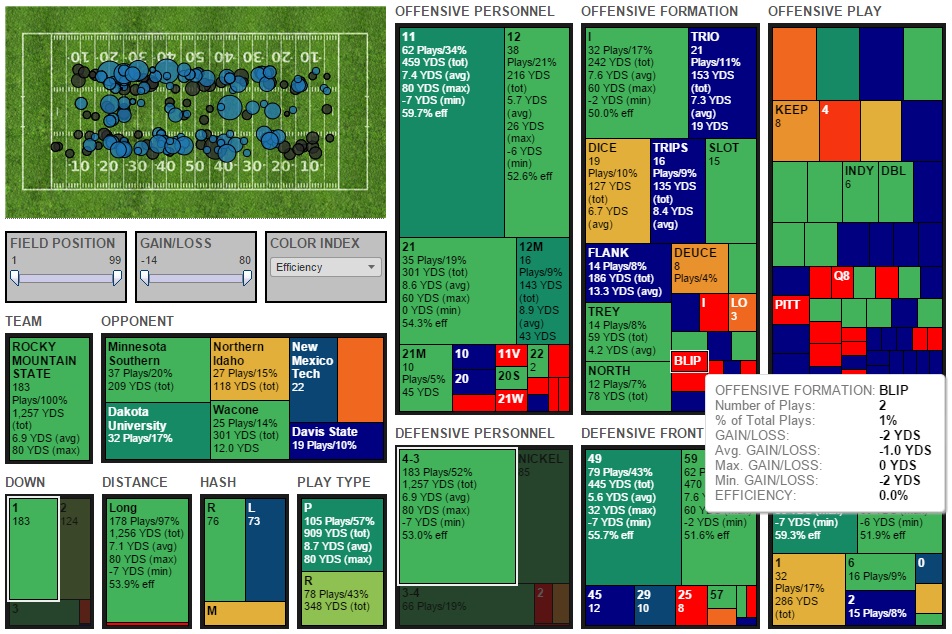 ​Here we've selected the offense coming up against a 4-3 defense on first down. As you'll see, you get a very different story of what works and what doesn't work. You'll notice that plays in the TRIO formation perform slightly better against this formation, and that plays in the DICE formation perform worse, but the FLANK formation outperforms everything and averages a fantastic 13.3 average yards per play against 4-3 defense. While this team tends to perform quite well against this defensive personnel there are still some formations, such as BLIP, that perform quite poorly and actually average a gain of -1.0 yards per play.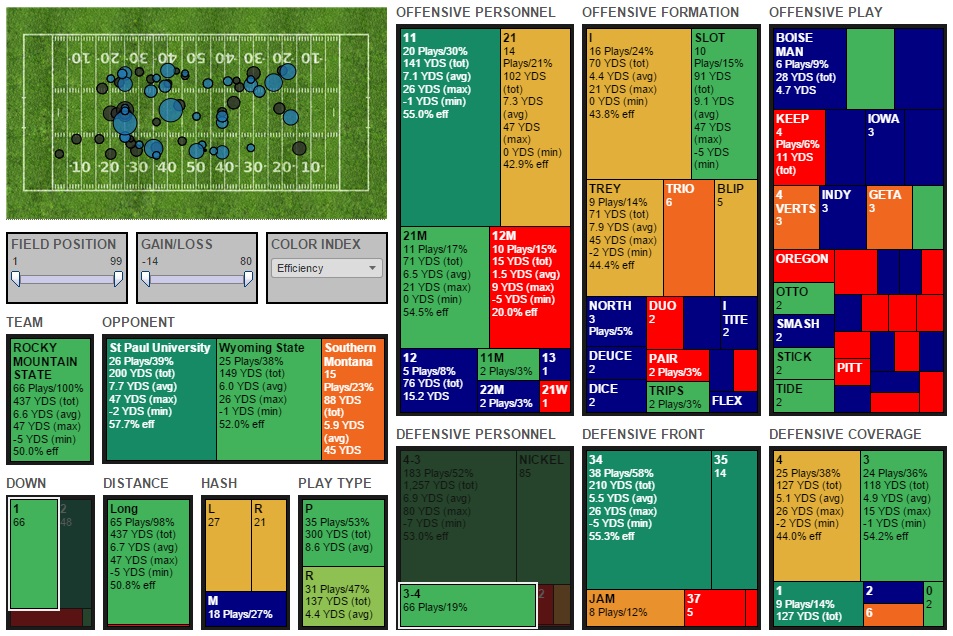 Lastly here we have selected a 3-4 defense. Again things change. Here we see the I formation is the most common formation used, however, this time its plays only result in an average of 4.4 yards per play. When compared to the 14.2 yards per play it would garner against a Nickel defense, 4.4 yards seems far less efficient. We actually find here that their top 5 formations against a 3-4 aren't all that efficient, but in fact the less often used formations in blue such as NORTH, DEUCE, and I TITE are in fact much more efficient. This information can help you to not only understand your team better but can help give you quick and efficient insight that will help you to modify your game plan.
As you can tell there are a number of tendencies, weaknesses and strengths that can be uncovered by using the Gamebreak Dashboard. Not only can you uncover a ton of in-depth analysis but you'll also save yourself hours each week. One hour of interaction with the Dashboard each week should supply you with enough data to understand your opponent and prepare for your next game against them. If you'd like to try out our Dashboard for free you can
click here!