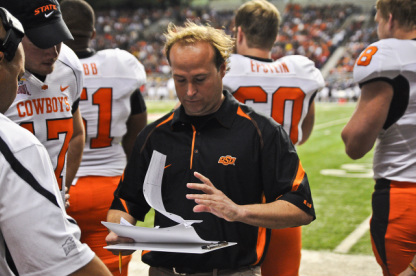 Sports analytics has become a hot topic in the past few years with many questioning its effectiveness. Some coaches believe that the game of football is about much more than a game that can be predicted through statistical analysis. Other coaches have embraced the analytical community (to varying degrees). Across all of the major American sports, NFL teams are considered the most reluctant to take advantage of analytics. One thing is for certain, however, that in the currently unpredictable world of football analysis there are certain types of analysis which undoubtedly can help you improve your success as a coach.
This article will run through why many coaches have been reluctant to use analytics and what some of the more effective analysis methods are in football. The article will also what analytical approaches coaches are successfully using to increase their success on the field.
Click here to check out our Gamebreak Scan and see how analysis can help your coaching today!
Why are so many football teams reluctant to use analytics?
In early 2015
ESPN, the magazine
released a list of all 122 teams in America's 4 major sports (basketball, football, hockey, and baseball) rating them on the strength of their analytics staff and level of buy-in from management and coaches. In this list, the top 10 teams consisted of mostly basketball and baseball teams with the exception of the reigning Stanley Cup Champions, the Chicago Blackhawks, coming in at number 10. So where are the NFL teams? Well, they're in the bottom 10. Of the bottom, ten ranked teams opposed to analytics, 4 of them are NFL teams and no team in the league ranked as an "all-in" believer of analytics. So why isn't analytics catching on in the NFL like other sports?
There's probably a few reasons for that. According to Kevin Selfert of ESPN, The Magazine, all football teams are trying to do the same thing to win and it's been the same for a long time. Teams look for two factors, a good coach and a good quarterback. He believes that there isn't much "out of the box thinking" going on between teams to give them an edge. Secondly and most importantly he claims that analytics hasn't been booming in football like in other sports because there are simply too many variables to cover for analytics to be applicable. On the surface this explanation makes perfect sense, football is a difficult sport to predict given that each play involves 11 players on the field per team. This is where the
Gamebreak Scan
can make a difference. The Gamebreak Scan service can analyze all of these variables in a manner to identify the situations and formations that reveal the high probability (60-99%) tendencies of an opponent. It can also identify the plays for your team that will have the highest probability of success given your location on the field, the defensive formation you are facing and the down and distance at that point in time.
Click here
to learn more about the Gamebreak Scan
Football Film
Many football coaches don't consider viewing football film as an analytical approach to football. Often times it is viewed and remarked upon without any statistical analysis being applied to it outside of a coaches notes. However in recent years many coaches have looked to advanced competitor analysis to help them have a competitive edge in game. Companies such as Hudl provide full
video analysis tools
to help quickly access film and break down your competitors patterns and tendencies. Analytical tools such as these can be crucial to improving your coaching and ultimately can give you the upper hand against other teams. The unfortunate thing is that though these analysis tools are helpful they still provide only low probability outcomes even though they know certain opponent tendencies. That's where the
Gamebreak Scan
comes in.
The Gamebreak scan works like other competitor analysis tools except it takes the entire analytical approach to breaking down film a step further. Just watch this video below to see how it works.
As you can see, the Gamebreak Scan helps to take competitor analysis to a whole different level helping to improve the probability of understanding your opponents next move from 10% to 60, 70, 80, 90 or even 100%. Not only does it provide an incredible in depth analysis of your competitors, it also only takes a few minutes to complete a scan because it's all performed online. Despite the current shortage of support for analytics across football competitor analysis products such as the Gamebreak Scan can help you to take your coaching abilities to a new level which should lead to more success for your team and individual players. If you'd like to learn more about the
Gamebreak Scan
and how it can help you be sure to contact us today!
Sources:
http://espn.go.com/espn/feature/story/_/id/12331388/the-great-analytics-rankings