Every good coach has to find the time each week to study game film, but it can be one of the most tedious and time consuming parts of the job. Luckily for every coach out there, there are tools that you can use to help minimize the amount of time you spend studying football film that, as an added bonus, will give you a more in-depth analysis of your team or your opponent's. In this article we'll walk you through some of the tools we have here at RII Sports that will help you to minimize your football film study time by saving you time in finding opponent tendencies, and saving you time in game planning. If you want to check out all of the products we have available,
click here now!
---

"I think a lot of times with scouting reports the things that we struggle with as coordinators is there's so much information. But with the way that Tom works it and with the technology he has, all the information is just a click away... In reality with the price that he's charging and the product that he has I just can't imagine a team not using it. I think it's really the way of the future and what we're all going to be moving to."
-
Tom Tonelli, Assistant Coach at Columbine (Colo.) High School

Click here for more reviews on RII Sports!
---
Saving time finding opponent tendencies
Most coaches spend hours each week searching through their opponent's game film in hopes that they'll find some tendencies that they'll be able to exploit on game day. If you're able to find these tendencies, your chances of winning against that specific team greatly increase, so it's certainly an important aspect of viewing game film. Luckily, there are tools out there for coaches which greatly limit the amount of time you'll need to spend searching for these tendencies. Our product, the
Gamebreak Scan
, is able to take the film breakdowns that most coaches receive from Hudl, Krossover, XOS or other companies and deliver an in-depth breakdown of your opponent's tendencies directly to you. You actually don't even have to watch a single moment of game film if you don't want to! Here's a video of an example of a situational scan summary that you'll receive after the Gamebreak Scan has run a full analysis on your game film data.
As you can see from the video, with the situational scan summary there are a ton of available tendencies to you that you may never find by studying game film on your own. One of the best parts of the
Gamebreak Scan
is how specific it can be. It's so in-depth that it's often able to find tendencies that are assured 100% of the time! For example, in a situation such as 2nd down with 10 yards to go within their own 20 yard line, a team might run a running play 100% of the time. A situational scan will provide you with that information and will even be able to give you the percentage of time certain run plays are called in that situation. This will save you a ton of time each week.

Finding opponent's weaknesses
When it comes to finding your opponent's weaknesses you can use our product, the Gamebreak Scouting Dashboard, to interact with all of the tendencies and plays that a certain opponent could be expected to run. Here's a look at our Dashboard: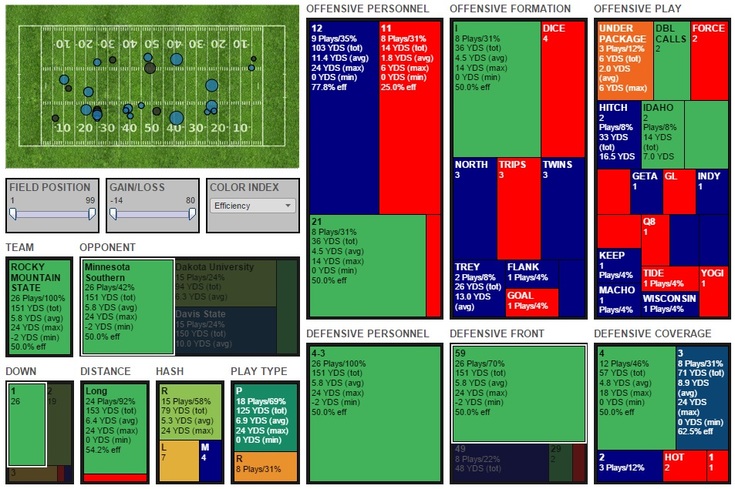 Inside the Dashboard you have numerous options you can select to narrow things down. In this case we've selected the opponent as Minnesota Southern, we've selected that it would be first down, and we've selected the defensive front 59 (you can tell they're selected because they have a white border around them). As an example, if you take a look at the offensive personnel category, you can see right away that they're offensive personnel number 12 is much stronger than 11 in this situation. They average 11.4 yards per play whereas offensive personnel 11 only averages 1.8. The weaknesses of an opponent will show up in red so you can also come to the conclusion that their offensive formation's Dice and Trips are also weaker.

Saving you time in game planning
With all of this information on your opponents, your ability to plan for your game day should not only take less time but it should also be more precise. You're able to plan around exploiting your opponent's tendencies and weaknesses while also ensuring you're well prepared against their strengths. With this tool alone you'll be able to save hours each week, allowing you to take the time to focus on other coaching matters. All of this is possible with the
Gamebreak Scan
and the use of our
Gamebreak Scouting Dashboards
. If you're interested in saving yourself time and ensuring more success as a coach on the field
contact us today!
Click here to try out one of our Dashboards today!