When people first hear about our product, the

Gamebreak Scan

, they tend to assume that it's a product that would be in competition with companies such as Hudl, Krossover, Vidswap and other sports video analysis packages. While they all share the common goal of providing coaches with tools to help them better prepare their teams for game day, the Gamebreak Scan actually works together with video analysis tool companies to benefit coaches even more. In this article we'll discuss the differences between the Gamebreak Scan and Hudl, and how the two can work together to give coaches the ultimate video analysis breakdown.

Click here for a free Gambreak Scan trial!
---
"Your program was amazing to work with throughout the year. The statistical data that we were able to glean from your software allowed both Adam and I to develop efficient game plans and practice plans. The user interface was easy to use and the color coordination was visually appealing."- John Konecki, Crete-Monee High School
2015 6A State Runner Up
---
How does Hudl work?
Hudl
is a cloud based modern video analysis tool that's become of the most popular companies in the industry. Their main focus is to create tools which make video analysis more user-friendly and efficient for their users while also providing tools that improve their rate of success. Currently, their products and services cater to a number of sports such as basketball, soccer, hockey, golf and more. For football coaches,
Hudl's video analysis tools
are a fantastic product. To use Hudl, all you have to do is upload a game film, of either your team or a competitors team, and Hudl will provide you with a platform to capture, store and share these videos. They also have a platform that allows for coaches to breakdown their own game film and run custom reports to find team tendencies. Another interesting product Hudl has is a fully interactive interface called Hudl Mercury which allows you to share your game video with any of your players or fellow coaches, add your own personal notes on the game, and even create your own highlights. Hudl is a fantastic game film editing option for any coach. Some personal reviews of Hudl can be found
here.
How is the Gamebreak Scan any different?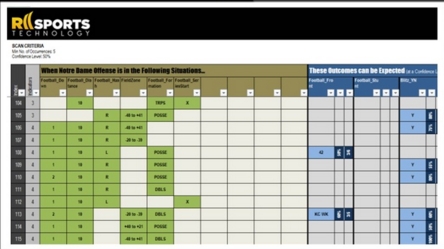 Unlike with Hudl, the
Gamebreak Scan
does not provide you with any film related platforms or film editing tools. Rather, its strength lies in providing you with tangible data that will help you to win games. While Hudl is focused on giving coaches a fantastic way to organize and customize their game film, the Gamebreak Scan looks through the data provided by Hudl and uses it to build an in depth tendency report that Hudl does not provide. Think of it this way. While Hudl is a jack of all trades in the video analysis world, the
Gamebreak Scan
is the master of one specific area; finding and reporting tendencies.
In order to use the Gamebreak Scan, you'll need to export your previous game film breakdown data into an Excel compatible file from a company such as
Hudl
, Krossover or Vidswap place it in our Gamebreak Scan Template file and then send it to
gamebreakscan@r2sportstech.com
. W
ithin 15 minutes you'll have a full report back from RII Sports. The report will provide you with two different types of scans: a "Situational Scan" that shows high probability tendencies and an "Outcome Scan" that shows high probability indicators for specific outcomes. These scans will provide you with high probability tendencies that will help you know exactly what an opponent is going to do with 70, 80, 90 or even 100% accuracy. These videos should help you understand how to export your film data to Excel and how to place that data into a template:
By combining the breakdown and video editing programs of Hudl with the in depth tendency scans that the Gamebreak Scan provides, you will be able to coach with more confidence and in-game knowledge then ever before. If you're interested in trying out the Gamebreak Scan you can try out a
free trial here.