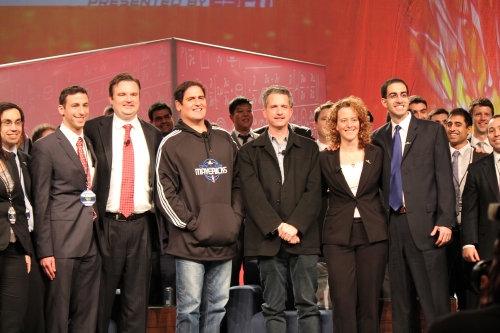 Often when you search for any information on sports analytics, you come upon articles that talk about the MIT Sloan Sports Analytic Conference. But what is this conference? This article will go through some facts about the Sloan Sports Analytics Conference to give you better insight into one of the largest sports analytics conferences in the world.
Click here
to learn more about our analytics service the
GameBreak Scan
.
History of the MIT Sloan Sports Analytics Conference
The
MIT Sloan Sports Analytics Conference
was founded in 2006 by Daryl Morey (now the general manager & managing director of basketball operations for the Houston Rockets) and Jessica Gelman (the Vice President of Customer Marketing & Strategy for the Kraft Sports Group). The first conference was held on February 10th, 2007 in the classrooms at the Massachusetts Institute of Technology and had only 175 attendees. Some of the key speakers at this first conference were J.P Ricciardi, former Senior V.P of baseball operations and General Manager of the Toronto Blue Jays, and Jamie McCourt, former CEO of the Los Angeles Dodgers.
Since its inaugural year, the conference has seen substantial growth as sports analytics has grown into the major leagues of all sports across North America. By 2010, there were over 1000 attendees and in 2015 there were more than 3,200 attendees, 3 of whom were the NBA commissioner, MLB commissioner and MLS commissioner. Given the attention to analytics in sports and it's growing trend the MIT Sloan Sports Analytics Conference is only expected to continue to grow in both size and importance.
The Focus of the MIT Sloan Sports Analytics Conference
The focus of the MIT Sloan Sports Conference is to provide a forum for industry professionals (both executives and leading researchers), along with students, and sports fans to discuss the increasing role of analytics across the sports industry. Their purpose is to bring attention to new studies and place focus on the research papers related to the field. Here's a quote from their website, "MIT Sloan is dedicated to fostering growth and innovation in this arena, and the conference enriches opportunities for learning about the sports business world."
Tickets are on sale for the 2016 MIT Sloan Sports Conference which is taking place March 11-12 at the Boston Convention and Exhibition Center. It's open to all interested, however MIT students will get a discount.
Click here to find out more information.
Any more information you'd like to find on the MIT Sloan Sports Analytic Conference can be found on their website
here
. We will be updating this page as new information on the 2016 conference becomes available.
RII Sports Technology
RII Sports Technology is a football competitor analysis company that's focused on providing innovative, powerful and affordable data solutions to our clients. Watch the video below to find out more.
As you can see through the video, our
Gamebreak Scan
along with our
Dashboard
can help this competitor analysis go far more in-depth than most traditional types of competitor analysis. It can help to increase your chances of predicting the outcome of your opponent's next play from 60% to even 99% certainty. Having this kind of predictive data should help you to not only become more confident in your play calling, but it will also give your team a much higher rate of success. To get a free dashboard trial,
click here now.