Every coach is always looking for a tool to help them gain an advantage over their opponents. One of the best ways to gain an edge on your opponents is to always be on the lookout for new technologies and software in the field of football. In this article, we're going to talk about how the use of Hudl and the Gamebreak Scan by RII Sports can help to give you a significant advantage over your opponents, and will give you more insight into your own team. You can check out more on the Gamebreak Scan by
clicking here now!
---
"I think a lot of times with scouting reports the things that we struggle with as coordinators is there's so much information. But with the way that Tom works it and with the technology he has, all the information is just a click away... In reality with the price that he's charging and the product that he has I just can't imagine a team not using it. I think it's really the way of the future and what we're all going to be moving to."

- Tom Tonelli, Assistant Coach at Columbine (Colo.) High School
---
Hudl
A lot of coaches in both the high school and collegiate levels use Hudl as a part of their coaching routine. If you haven't heard of Hudl before the best thing for you to do would be to visit their website and check out there list of products. You can do so by
clicking here.
Hudl has a line up of video analysis tools that can be used from a computer or mobile device. For football coaches you can use Hudl's programs to break down your game film into custom reports and playlists for you to use. Think of it this way, usually a coach will sit down with their game film and will spend hours each week looking through it. You take notes on which plays worked, which didn't, which players played well etc. With Hudl you can avoid all of that time spent watching game film.
To use Hudl, all you have to do is upload your video, of either your team or a competitors team, and Hudl will provide you with a platform to capture, store and share these videos. They also have a platform that allows for coaches to breakdown their own game film and there's also a fully interactive interface called Hudl Mercury which allows you to share your game video with any of your players or fellow coaches, add your own personal notes on the game, and even create your own highlights.
Check out this video to see how Hudl works for football coaches.
RII Sports Gamebreak Scan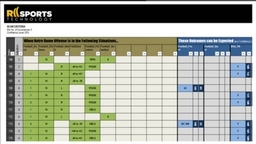 Hudl is a fantastic product for organizing data on your team (or other teams) and giving you a platform to share and create highlights with your team or other coaches. What we find here at RII Sports is that the feedback and breakdowns that Hudl provides for you, while valuable, are not as in depth as they should be. That's where we come in. Our
Gamebreak Scan
is able to take the breakdown which is provided for you by Hudl and take it to the next level. We explain it like this. Hudl can provide you information on what you or your opponent likes to do, but the Gamebreak Scan can provide you information on what your opponent will do. This video will help explain why the Gamebreak Scan pairs well with Hudl to create the ultimate organizational data program:
​
As you can see from the above video, Hudl will provide you with very basic information. You might be able to deter from their data that the top used play during a Trips formation may be a W Bubble Screen 25%, but once all of your data is put through the Gamebreak Scan you may discover that this is only the case during 1st down with 10 yards to go at their own 20 yard like they actually run this play 80% of the time. Knowing that they will run this play 80% of the time during this specific instance is much more valuable than knowing they run it 25% of the time in a certain formation. Here are some more advantages of using the Gamebreak Scan:
​
Every Scan Subscription includes two unique Scans - Situational Scans show High-Confidence Tendencies and the circumstance under which they happen; Outcome Scans provide High-Confidence Indicators that show you what to look for to predict your opponent's next move
Scan Results are automatically generated and delivered via email within hours of submitting your breakdown data
Scans search literally thousands of possible combinations to identify "high confidence" tendencies and the specific game situations/circumstances to look for

Know exactly what your opponent is going to do - where he's going to do it, when he's going to do it
RII Sports
Here at RII Sports we feel that the combination of both Hudl's programs and the Gamebreak Scan give any team a huge advantage going into each of their games. If you're a high school or collegiate level coach we would love to talk to you today about our products and how we can help make your job easier and increase the number of wins you have each season.
Click here now to contact us today!