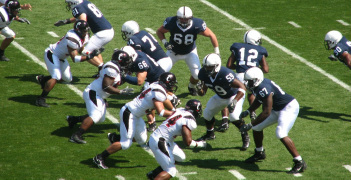 Don't you ever wish you knew what your opponent's next move would be? To be able to tell the future and know exactly how you play against them? While being able to tell the future is still something of fantasy, RII Sports Technology's Gamebreak Scan can offer you the next best thing. Here are the 6 benefits of using RII Sports Technology's Gamebreak Scan services. If you'd like to inquire about our Gamebreak Scan services contact us today!

1. Higher Probability Tendencies Uncovered Than What You Get From Normal Game Film Study

All teams exhibit high probability tendencies. The challenge is that these tendencies are in hard to find areas that need to be searched for. These tendencies are very rarely found from normal film study or film study data reports offered by programs like Hudl, DV Sport, Vidswap, and Dakstats.

Usually with film breakdown data you can find plays that are run 20-40% of the time from certain formations. For example, from these kinds of studies and reports you may find that from the trips formation your competitor will run a bubble screen 26% of the time. However, what if you could know with 70%, 80%, 90% or even 99% probability what play your opponent will run from a certain formation?

This is the type of insight the GameBreak Scan can find on your competitor. Using the GameBreak Scan you could find out that there is a 67% probability of a bubble screen from a trips formation strong left when there is 10 yards to go or more to get a first down. Imagine what you could do with this kind of foresight. To learn more, watch this video about the GameBreak Scan.


What the defensive coordinator of Southern Methodist has to say about GameBreak Scan:

"It is like having answers to the test..." - Van Malone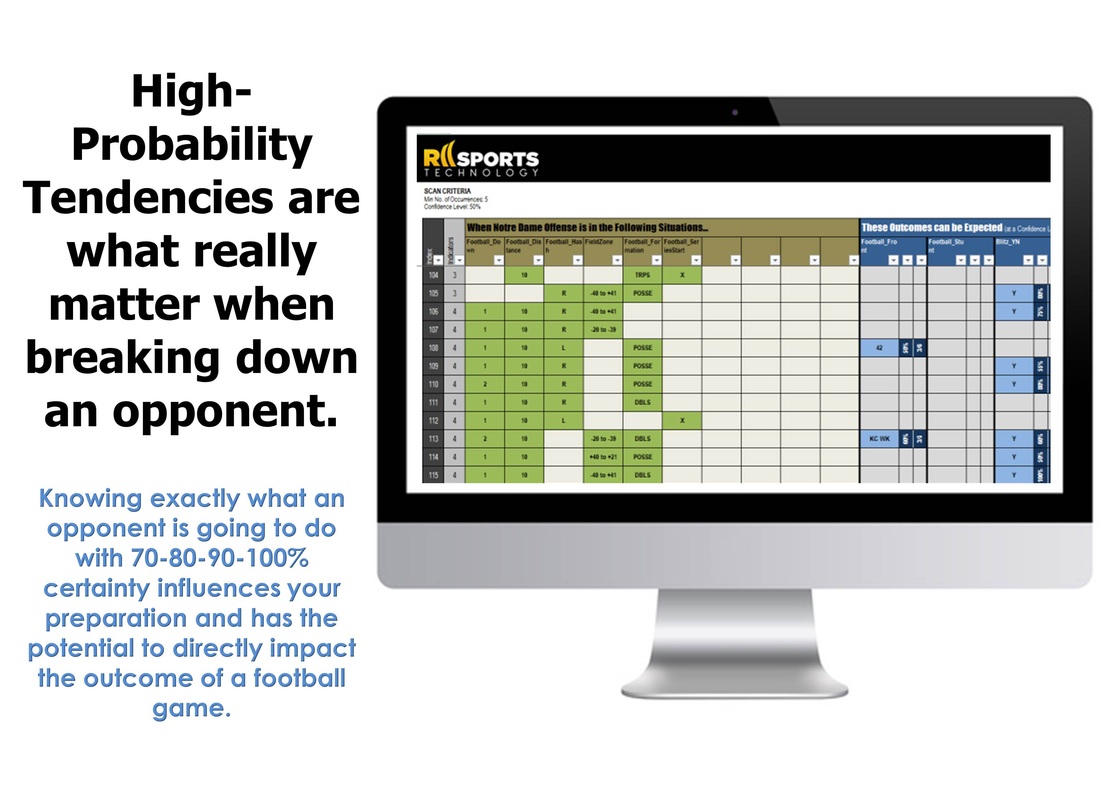 2. It Is Easy To Get
All you need to do to get a GameBreak Scan of your data is to export your existing film breakdown data to an excel compatible file (.xlsx or .csv), send your file to the GameBreak Scan Processor via email and your report will be emailed back to you. It is that easy. Click here to run one free scan of your film breakdown data to see what tendencies GameBreak Scan can find on your next competitor! You can get a scan completely free, so why not try it and see what you get?

3. Quick Turn Around: You Get Your Report In Under 15 Minutes
The GameBreak Scan system will read your film data export and return a report to you in 15 minutes. It is a super fast process. No need to worry about waiting around for your results. We give you your results quickly so that you can get right back to planning for your upcoming game. We understand how valuable each hour is when preparing for your next game.

4. Save Time
Since you can get the GameBreak Scan report with all the tendencies of your next weeks opponent in 15 minutes, it can save you hours of film study time trying to determine their tendencies. Let GameBreak Scan do the hard work for you and spend more of your time planning and on the practice field.

5. The Ability To Scan For Specific Scenarios
With GameBreak Scan, we can perform both default scans (where we scan for standard items) or a customized scan to search for specific items about your opponent under specific situations. Contact us today to learn more about these capabilities. We would be happy to explain what we can all do.

6. Learn With A Very High Probability What Plays Your Opponent Will Run Given The Situation, Formation & Position On The Field.
With the GameBreak Scan service, you will get a report showing the detailed high probability tendencies of your opponent. You can sort the report to find the highest tendencies your opponent has, which can allow you to know with up to 99% confidence what play they will run given specific scenarios. This then allows you to plan specific plays for those situations knowing exactly what your opponent will do. This knowledge gives you a huge advantage over your opponent.

With GameBreak Scan, it is like you know the play calls of your opponent before they even make them. GameBreak Scan is completely free to try. What do you have to lose? Give it a try today. Click here to run a free scan of your film breakdown data.