Data Analysis Techniques for Football Coaches
Your film data has the potential to be your single greatest competitive advantage – if you know how to get the most out of it. In these free 45 minute sessions RII Sports Technology shares techniques and strategies for structuring and analyzing your film data and maximizing its effectiveness for your program.
​DAT101 Diagnosing and Exploiting a Team's Strengths & Weaknesses Using Data Visualization Tools
You know the old adage that "a picture is worth a thousand words"? That's especially true when looking at data - even a football coach's film breakdown data. In this session we'll introduce you to "Data Visualization" tools and techniques, and show you how to easily leverage them to diagnose a team's every Tendency, Strength & Weakness. You'll learn how to make your Self Scout analyses more impactful, and your Opponent Scout film study more effective.
Mondays 2:00-2:45PM EST

DAT201 Exposing High-Probability Tendencies in Film Data
Hidden in your Film Data are hundreds, even thousands of "high-probability" tendencies – things that happen with 80, 90, even 100% certainty. Because of the mathematics behind data patterns, the great majority of these potentially game-changing tendencies will never be seen using traditional 4ea[=r34];pmethods. This session will give you an understanding of how to leverage your film data to "turn over every stone" and identify these important tendencies you've likely been missing.
Wednesdays 11:00-11:45AM EST

DAT301 Leveraging Film Data to Optimize Play Calling
When you align your team's Strengths on your opponent's Weaknesses your odds of winning are vastly improved. Your Film Data has all you need to both confidently and consistently do that. This session will show you how to leverage your film data to optimize your play calling and maximize your Offensive and Defensive performance.
Fridays 2:00-2:45PM EST
Instructor: Tom Woods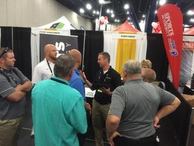 Tom is the President of TTJ&B Inc. – a firm that has provided advanced data and analysis services to organizations in the Aerospace & Defense Industry since 2002 (including NASA, Lockheed Martin, Boeing, Raytheon, the NSA, the Missile Defense Agency and many others). He is also the Founder of RII Sports Technology, a subsidiary of TTJ&B Inc., that provides technology solutions to football programs at all levels of competition nationwide including Michigan, USC, Arizona, South Carolina, SMU, Harvard, Yale, Dartmouth, Baylor, Illinois, the Carolina Panthers and countless others. Tom combines more than 20 years of experience developing & working with advanced data techniques with an ability to simplify concepts and teach others.
---
Registration
There is no cost to attend but space is limited to 10 coaches per session (to participate you must be an active member of a professional, collegiate or high school football staff). All sessions are conducted via live webcast from RII Sports Technology's offices in Parker, Colorado. To register simply select any of the sessions below and complete the registration form. After registering, you will receive a confirmation email with information on how to connect to your session.
DAT101
Diagnosing and Exploiting a Team's Strengths & Weaknesses using Data Visualization Tools​

Mondays 2:00-2:45PM EST
​

DAT201
Exposing High-Probability Tendencies in Film Data




Wednesdays 11:00-11:45AM EST
​

DAT301
Leveraging Film Data to Optimize Play Calling




Fridays 2:00-2:45PM EST
​