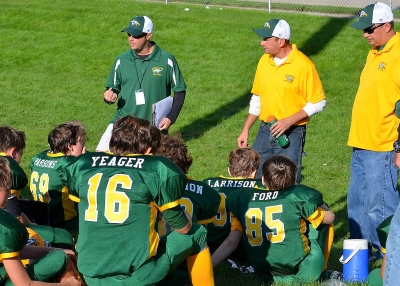 Being a college or university football coach is the dream of many coaches across North America. Not only does it mean a drastic salary increase from coaching in the high school level but it can also become a stepping stone to coaching in the pros, though many coaches prefer coaching at the college/university level. This article will take you through some of the steps you have to take to become a college football coach, and also how to find one once you think you're ready to take the final step. R2 Sports Technology can help take your coaching to the next level with their products like the
GameBreak Scan
, the
R2 Sports Dashboard
and the
Gameday Scout
. Click here to get a free
Dashboard Trial
today.
Steps To Becoming A College Football Coach
Here are a few steps you should take before looking to find a job coaching college or university level football.

1. Gain a ton of experience
One of the largest influences influencing colleges or universities looking for head coaches is if you have a lot of experience. This may mean starting small by coaching in intermediate schools and high schools before having your chance, but a lot of current football college coaches gained their experience from actually playing the game themselves. One example would be Nick Saban, the highest-paid coach currently in College football, played defensive back at Kent State University under his coach Don James who later would take him on as a graduate assistant. From there Saban went on to be an assistant coach in several University and NFL teams before latching on to full-time positions at Michigan State, LSU, the Miami Dolphins, and Alabama. Experience in the game is a must and something you should strongly focus on. Different schools look for different levels of experience so be sure to gather as much as possible to ensure you have a chance at a wide variety of colleges.
2. Get an Education
Though it's not completely necessary to have an education to begin coaching football, many of the successful coaches and teams view sports related education as a strong provider of evidence for success as a coach. Looking at Saban once again, he graduated with a bachelor's degree in business and a master's degree in sports administration from Kent State University before starting his coaching journey. Urban Meyer, another one of the most successful university coaches also completed a masters degree in sports administration while being a graduate assistant at Ohio State.

3. Be Willing
Becoming a college coach is not all glamour. It takes hard work, dedication and sacrifice that a lot of people may not notice. If you want to become a coach at the college level you'll want to understand early and often that you may have to sacrifice things such as where you want to live in order to pursue your dreams. Have a willingness to travel and relocate before jumping into the position and it'll make the transition a lot easier.
What To Do When You're Ready
Once you think you're ready to make the jump into college football coaching you'll want to begin throwing your resume into every opening you can find. Competition for coaching jobs is tough in college so now is not the time to be picky. You may have to start with specific coaching assignments, as an assistant coach or otherwise, and work your way up into a head coaching position. Here are a few websites you can use to look for College/University football jobs:

Here are a few other things you should do when hunting for a college coaching job:
1. Attend Events
Attending events or exhibitions is a great way to start building networks which could lead to potential jobs or other opportunities. According to
this article
from Career Miner, at least 60% of jobs are found through networking channels and 80% of jobs are not advertised externally. This is often the same with coaching positions in college, where knowing somebody is actually one of the best ways to have a step ahead of the competition. Though exhibitions can be intimidating and it can be difficult to put yourself out there if you're confident in your own abilities it's a great opportunity for others to see that first hand.
2. Optimize Your Social Media
A lot of employers use social media as a way to scout their potential employees, so be sure to use yours as a way of promoting yourself in a positive light. According to
Michael Page
, 77% of employers use social media to find potential candidates, and 20% of them use social media to screen their candidates. Possible reasons for rejecting candidates include lying about qualifications, posting inappropriate media, demonstrating poor communication skills and others. To have the best showing to potential head coach recruiters make sure to keep all of your profiles complete, relevant and professional.
RII Sports Technology
RII Sports Technology can help to give you a huge advantage during game play. Our products, the
GameBreak Scan
,
RII Sports Dashboard
, and
GameDay Scout
will help you to prepare for your next game like never before. Imagine going from not being able to predict your opponants next move to being able to predict it with 60, 70, 80, 90, and even 100% accuracy. These are the types of numbers our products can deliver to you. To learn more about how RII Sports can help you
contact us today
, or
try out our Dashboard for free
!

Sources: http://www.rolltide.com/sports/m-footbl/mtt/saban_nick00.
htmlhttp://careerminer.infomine.com/looking-for-a-job-how-attending-networking-events-can-help/
http://www.monster.com/blog/b/social-media-tips-job-search