How to find high school football coaching jobs
Getting a job as a high school head coach is one of the steps that can help you toward becoming a high tier coach at either the college or even the professional level. Because it can be difficult to know exactly what steps to take in becoming a high school football coach, we thought we'd build a guide that should help you on your journey to the top. We discuss the topics of why it's important to gain experience, volunteer your time, attend high school coaching events, optimize your social media, and seek certification or education about coaching. Here at RII Sports Technology we also have a couple of great tools you can use to help you enhance how you coach and your ability gain insight into your own team and your opponents.

Click here to learn about our products today!
​

"Your program was amazing to work with throughout the year. The statistical data that we were able to glean from your software allowed both Adam and I to develop efficient game plans and practice plans. The user interface was easy to use and the color coordination was visually appealing."-
John Konecki,
Crete-Monee High School
2015 6A State Runner Up
---
Gaining Experience
It goes without saying that having experience as a coach, particularly a football coach, will help to increase your chances of securing a football coach position at the high school level. We would suggest starting off coaching at some intermediate or even elementary level schools to help you become familiar with what coaching methods work for you. Spending time coaching younger players not only helps to give you insight into how you should run a football team, but it will help give you insight into the minds of football players, which is equally important when it comes to being a successful coach.
Volunteering
​
​
According to
Sportsmanagementdegreehub.com
one of the keys to landing a full time position as a paid high school coach may even include taking an unpaid position. Internships can be the gateway to becoming a successful coach at not only the high school level, but at the collegiate and professional level as well. Even Nick Saban, one of the most successful coaches in collegiate history, began his career as an assistant at Kent State University before moving on to being an assistant coach at other colleges. If you have no education focused on coaching or athletics, most universities will not consider you for an athletics position unless you have extensive high school experience and success. Look around your community and find out if there are any local teams you can volunteer with, either as a coach or as an assistant. These experiences can be vital to your success down the road.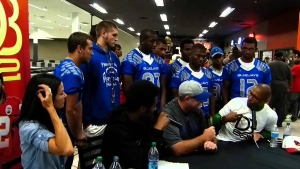 Attending Coaching Events
​
The
National High School Coaches Association
holds several coaching events every year across a broad spectrum of different sports, including football. These national events are often attended to by some of the most influential people in high school and collegiate level athletics, so you can be assured that there will be opportunities to meet and greet some people who may be crucial in helping you secure a coaching position. Outside of being able to potentially meet your future employers, there will also be opportunities to learn more about what it takes to be a successful coach and share tips and tools with fellow coaches or aspiring coaches. You can check out the NSHCA's list of upcoming events
here.
Also, always keep your ears and eyes open for more local events that may be in your area.
Optimizing Your Social Media
When searching for a potential head coach, many high schools will look through their candidates' social media platforms. This could include things such as Facebook, Twitter, and LinkedIn. As an example, let's look at Brian White, the Offensive Coordinator at Rose-Hulman Institute of Technology. If you take a look at
his Twitter account
you'll find that it's incredibly professional and well laid out. Even having a professional looking profile picture can go a long way in making a high school feel comfortable about hiring you as a coach. Here's another example,
Michael Guay's linkedin account
. On his account he's laid out everything from his past experiences to his education level. Having a well laid out linkedin profile can help you to look professional and provide potential employers with an extra level of information.
Earn Formal Education
This is certainly one of the most important aspects that most recruiters will look for when hiring a coach, particularly for higher ranked high schools. While it's not necessary to attend school in order to be a successful coach at the high school level, it will add to your resume and should greatly improve your ability to coach. If you're planning on using high school coaching experience as a stepping stone to more professional or collegiate coaching opportunities, then seeking a formal education is a must. If you're looking to find a paid position in the high school ranks having an education is a big factor. Usually one of two options will become available. First, you can receive an education degree that allows you to both teach at the school as well as volunteer to coach the football team. This is one route many people take because most public high schools do not have the funds to hire a football coach. The second option would be to receive an athletics based degree such as kinesiology or sports management in hopes of being hired as a coach at a more prestigious high school that has the funds to hire a coach for their football program.
In Conclusion
Once you've gained experience, optimized your social media, and even earned a formal education, it's time to start looking for positions. Most postings for head coaching jobs can be found online. Check different websites such as
indeed.com
,
maxpreps.com
,
footballscoop.com
and others. Also build a list of connections so that they can refer you to schools that may be looking. This may give you an opportunity to be interviewed before the job even goes public, which will give you the upper hand.
Sources: http://www.sportsmanagementdegreehub.com/how-to-become-a-high-school-football-coach/
---