The Top 7 Football Coaching Tips That Will Turn Around Your Season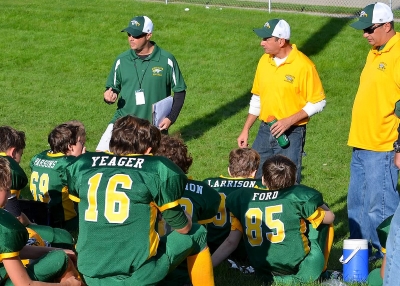 Coaching football at any level is a tough job. It's not often that you get credit for the success of your team, but you're also usually the first one thrown under the bus if the team is not doing well. Sometime's this can result on your job being put on the line, which is never enjoyable for anyone. This article will take you through the top 7 tips that can help to turn your season around and improve your overall coaching abilities. RII Sports Technology has a number of tools that can help to turn your season around.
Click here now to check out a free trial of the RII Sports Dashboard!
1. Relax
When team's start off struggling, one of the most common errors a coach can make is to become frustrated with the results and in turn to start making harsh or ill-advised decisions. It's important for a coach to not only be the person taking control of the team but to also set the best example for it's players. If your players can tell you're frustrated or not focusing that will have a negative effect on the team in the same way an uplifting, relaxed, and controlled coach can have a very positive effect.
2. Listen & Learn
Sometimes during a losing season it can feel like all the pressure to turn things around is on you as a coach. Though the focus may be on you and your performance alone don't allow yourself to forget that football is a team effort. Talk to your assistant coaches, talk to your mentors and those who are close to you and know the game well. Just because you're the coach doesn't mean you have to stop learning from others. Keep your mind open and participate in conversations with all members of your team.
3. Stay Enthusiastic
This can be one of the toughest parts of being a coach when your team is performing poorly, but it's also incredibly important. Many people confuse enthusiasm with being okay that you're losing, but this is not always the case. Being a good coach involves being able to let your players and co-workers know that you're unhappy with the results but have full belief that things are able to be improved. Show your players that they still have your trust even though the results haven't been there so far in the season. Showing faith in the team can go a long way in turning a season around. Confidence develops into competence when delivered the right way. Using the
RII Sport's Gamebreak Scan
can help give you confidence going into your games.
Click here to learn more!
4. Get Back To The Basics
When a team goes on a cold start to a season, sometimes the worst thing they can do is push too hard. If the offence is struggling players may start making more risky plays resulting in a higher level of turnovers, and defensively it may result in more penalties. It's important as a coach to be able to communicate with your players that they need to resort back to the basic fundamentals of football. During practices run through drills working on some of the simple fundamentals such as hand positioning, footwork, and how to properly tackle. If you're pushing yourself too hard as a coach you often rely too much on instinct and forget the basics so be sure to check yourself as well, especially when it comes to play calling.

5. Pay More Attention To The Details
Take some time to step back and review your team as a whole rather than just as a team that's losing. Take some time to really review the team's play from individual players to different groups of players. Is the running game going poorly? Look back through game film and figure out why. Is the running back not running the right route? Is the offensive line creating lanes? Maybe it's even something as simple as the quarterback handing off the ball really poorly. These details can add up in the game so take some time to really dissect your team down to the smallest details. If you'd like to perform a really in-depth analysis of your team you can use
RII Sport Technologies' GameBreak Scan
. The GameBreak Scan can break down film data to show you your team's tenancies in terms of how often you run certain plays, and how well those plays worked.
Click here now to try a free Gamebreak Scan trial!
6. Call A Player's Only Meeting
Players only meetings have shown to be incredibly effective in turning around a team. We mentioned before that it's important as a coach to listen to his staff and mentors, but it's equally important if not more so important for a coach to listen to what his players have to say. Players only meetings are great for giving the players a voice in a safe environment where they can discuss how they feel about the season so far, about how they feel they're performing individually, what may help them to play on a higher level and more. This feedback can help you to learn a lot about your team and help you to make better decisions on and off the field for the remainder of the season. Players also tend to be more willing to listen to their coaches if you show that you're willing to listen to them as well.
7. Lead The Team
One of the most difficult things to do as a coach when a team is performing poorly is to keep the trust and respect of your players. When a coach loses control of his players they're unable to lead the team which never leads to positive results. Instil confidence in your players by letting them know that you're working hard and that you want the best results for them and the team as a whole. Lift up individuals while still being critical of the teams play as a whole including critical of yourself. Be honest and humble but be confident in your abilities to turn things around.
How RII Sports Technology Can Help
RII Sports Technology
is a football competitor analysis company that's focused on providing innovative, powerful and affordable data solutions to our clients. Watch the video below to find out more.
As you can see through the video, our
Gamebreak Scan
along with our
Dashboard
can help this competitor analysis go far more in-depth than most traditional types of competitor analysis. It can help to increase your chances of predicting the outcome of your opponent's next play from 60% to even 99% certainty. Having this kind of predictive data should help you to not only become more confident in your play calling, but it will also give your team a much higher rate of success. To get a free dashboard trial,
click here now.