Top 5 Quarterback Drills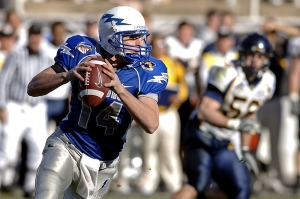 The quarterback is considered the most important position in all of football. In fact, it's so important that many coaches and football personalities believe only one aspect, an elite quarterback, is necessary for success. To ensure that your quarterback is ready to gameday there are a few drills you can go through to sharpen their offensive skills and help them become that elite quarterback that can lead your team to success. This article will walk you through our top 5 quarterback drills to hopefully help enhance your coaching abilities, or your performance as a quarterback. If you'd like some more tools to help increase your success as a coach check out our
Gamebreak Scan
and
other products!
---
---
5. Sprint Out Drill
Some of the best quarterbacks in the world excel at throwing during the run or making a play while trying to escape the pocket. This is a fairly simple drill to execute that will help you to feel comfortable throwing on the run. As a coach, have you quarterback sprint back and forth from right to left completing a pass to a target, or if possible another quarterback at a depth of 5-10 yards. If you want to add some pressure to the quarterback have other players act as defenders to try and deflect the ball or make an interception. Practice throwback passing as well from both hands while on the run.
4. Opposite Foot Drill
You won't always have the proper time to set up to throw from your strong side, so it's important to practice throwing from your opposite foot in case you need to release the ball quickly. In this drill have your quarterback start with their weak foot forward (right foot for right handers, left foot for left-handers), keep the forward foot pointed in the direction of the throw and practice rotating the hips to complete the throw to a target down field. You'll know that the throw is completed with the proper form when the quarterback is forced forward onto the ball of the opposite foot.
3. One Knee Drill
This is a great drill for working on both arm strength and throwing technique. Place your throwing hand side knee on the ground, and place the ball slightly in front of the knee. In one motion pick up the ball using your throwing hand, cock it backwards with both hands and throw it to a target set up down the field. Do not attempt to use the motion of your hips during this drill, instead, focus on throwing with only your arm and elbow. Use this drill to work on your follow through as well but exaggerating to the point of your hand slightly running across the grass. If properly completed, this drill should help you with your higher arcing throws and your wrist strength.
Active.com
also has a number of arm strengthening drills you should check out!
2. Drop Drill
This is one of the drills most quarterbacks usually learn to perfect early on in their career, but when a quarterback is struggling they may want to revert back to some of the basics to help their game. The purpose of the drill is to help quarterbacks perfect dropping back in the pocket and receiving a snap. Have your quarterback line up along the sidelines and simulate taking a snap and dropping back. Ensure your quarterback focuses on keeping the ball high, secure, and is keeping their eyes focus on the field in front of them rather than the ball. Check out some more drills like this one on
stack.com
.
1. Anticipation Drill
This drill takes a little bit of set up but it can be an incredibly effective quarterback training tool. One of
Jim Harbaugh's favourite quarterback drills
, the anticipation drill helps to develop a quarterback's ability to anticipate the point when a receiver will be open. For this drill, you'll have to set up a screen or curtain in the middle of the field that you'll have a receiver run behind. Have the quarterback take a snap and drop back as usual, after which you'll have a receiver run behind the curtain that should block the quarterback's vision. Have the quarterback practice anticipating the time it will take for the receiver to make it through so that they'll be able to release the ball before the receiver is visible.
How RII Sports Can Increase Your Success As a Coach
We hope you've learned some new drills to help you as either a coach or a quarterback that will help you be more successful on the field. At RII sports, we have competitor analysis tools that can help you to achieve success to an even higher level by providing you with in depth competitor analysis breakdowns that can help you understand both your team and you opponent better. For more information check out our
Gamebreak Scan
,
Dashboards
, and
GameDay Scout App!