Top 7 High School Football Programs
Now that it's the off-season for high school football, we thought it might be interesting to provide you with our list of the top 7 high school football programs across the United States. Now obviously, this list is completely subjective, and yes we've left out some teams that had fantastic years last year but after looking at areas such as win rate, recent championship history and available facilities and staff we think we've come up with a great list of high school programs that should be considered near the top of anyone's list. Here at RII Sports we have a number of programs that are used across the nation by many different high schools and universities. To check out our line up of products
click here now!
---
"Your program was amazing to work with throughout the year. The statistical data that we were able to glean from your software allowed both Adam and I to develop efficient game plans and practice plans. The user interface was easy to use and the color coordination was visually appealing."
​-

John Konecki,

Crete-Monee High School2015 6A State Runner Up
De La Salle (Concord, California)
De La Salle is the pinnacle of all things High School Football. They hold the national record of 151 consecutive wins from 1992-2004, a streak that is most likely to never be broken considering the previous record was only 72. They currently hold 7 national championships, 2nd all time only to Massillion Washington High School (which hasn't won since 1961), and they finished off this last year as the 3rd ranked team in the country after defeating the favored Centennial High School team. They even have a movie made after them entitled When the Game Stands Tall, which was released in 2014.
Katy High School (Katy, Texas)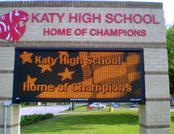 Katy were crowned this years national champions after defeating previously unbeaten Lake Texas in a route 34-7 in their final game of the season. However, their run of excellence in athletics is nothing recent, as the school has been open since 1898 and have 8 state championships to their name. Some of their notable alumni include Andy Dalton (current quarterback of the Bengals), Terrence Frederick, Bo Levi Mitchell, and Ryan Mouton.
---
Centennial High School (Corona, California)
Centennial is one of the newer high schools on this list but it hasn't taken them long to find a spot among some of the best high school football teams in the country. It was constructed in 1989 on a campus that covers over 1.7 million square feet which houses their 6 tennis courts, 2 soccer fields, 5 outdoor basketball courts and of course a state of the art football field. In 2008 they went undefeated and won their first state championship over De La Salle. This year they lost in the CIF Open Division Final to De La Salle which may have cost them the national championship, but still finished the year ranked number 5 by
MaxPreps.
They are a school with a building reputation for excellence.
Bishop Gorman High School (Enterprise, Nevada)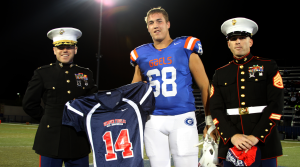 Since taking over the head coaching duties in 2009, Tony Sanchez has led the Gaels to 6 state championships (2 in 4A, 4 in Div.1) and a national championship in 2014. Considered by USA Today and Sports Illustrated as one of the top high school athletic programs in the country, their football program is beginning to reflect that endorsement. They have a beautiful facility which you can see
here
, and things only seem to be going uphill. You should be expecting them to contend for a national title for the next few years.
---
St. Edward High School (Lakewood, Ohio)
St. Edward High School has found success in recent years, winning back to back state championships in 2014 and 2015. They're teams is currently ranked 6th in the nation after a 14-1 record in 2015 but many believe they'll be able to build on their recent run of success. Already seen as one of the top high schools across America for hockey and wrestling, we think it's time to add football to that list.
Hoover High School (Hoover, Alabama)
The Hoover Buccaneers have been a force in Alabama's football world since 2000, winning 9 state championships since that year. Though last year's record of 10-3-0 left something to be desired we're sure that their program can return to the success they found in the early 2000's. The school already has a reputation for having one of the best hockey and wrestling programs in the nation so why not just add in football?
Jenks High School (Jenks, Oklahoma)
Jenks is known for their recent run of dominance throughout the state of Oklahoma. They won their state championships in 1994, 1996-2001, 2003, 2006, 2007, and 2012-2015. They have won a total of 16 state championships in their history. Their alumni include NFL players Rocky Calmus, Sean Mahan, Gerrett Mills, Chase Beeler and others. They also have a stadium that holds approximately 10,000 fans. If you're going to have that many people watching you, you'd better hope to be pretty good.
---
RII Sports
Video analysis software can provide you with some quality tools which help to organize, share and breakdown your game film but the one area where they fall short is being able to provide coaches with tangible information about player and team tendencies. This is where RII Sports comes in. Our
Gamebreak Scan
is able to take the game film breakdowns provided to you by software companies like Hudl and Vidswap and will break down a team's tendencies for you. Other video analysis software companies can provide you with information on how many times a team may use a certain play throughout a game but the
Gamebreak Scan
will take that information even further. For example, it will provide a breakdown of the most commonly used plays when a team is inside their own 20-yard line, during the second down with ten yards to go. We find that when you become this specific you are often able to predict the outcome of a play anywhere from 50-100% of the time. If you want to learn more about the Gamebreak Scan and help your high school football program find success like these in our top 7 list you can
click here to find our list of products.
---
Sources: ​http://articles.latimes.com/2008/dec/20/sports/sp-preptitle20
​http://www.maxpreps.com/news/Ma5qHhjF40KSRBoPSWLwAg/maxpreps-final-top-25-high-school-football-rankings.htm
​http://www.maxpreps.com/local/team/records/year_by_year_results.aspx?gendersport=boys,football&schoolid=c5a22c7b-ff61-416b-be5d-f18948147988