Leveraging Technology to Help Teams Win

Knowledge is power. It's true in business, its true in politics, its true in education, and its even true in football. The more you know about yourself and your opponent the greater your chances of winning.

After years of working with high tech organizations like NASA, the US Air Force, the US Missile Defense Agency, Lockheed Martin and Boeing we've learned a thing or two about how to make information usable - knowledge we've brought to coaches through our GameBreak Scouting Dashboards & Scans, and our GameDay Scout App.



RII Sports Technology's roots are in providing analytical and data services to clients in the Aerospace & Defense industry including Lockheed Martin, Boeing, the Missile Defense Agency, the United States Air Force, and NASA.
---
Our Clients
Here are just a few of the many football programs we've had the privilege of working with:
​
DI FBS: USC (PAC 12), University of Michigan (Big 10), South Carolina (SEC), SMU (AAC), University of Arizona (PAC 12), Oklahoma State University (Big 12), University of Kansas (Big 12)
DI FCS: Dartmouth, Yale, Harvard, South Dakota State, University of Northern Colorado
CFL: Saskatchewan RoughRiders
DII: Colorado State-Pueblo, Pace University, University of Sioux Falls, Pittsburg State, Pace University
DIII: Rose-Hulman Institute of Technology, Lycoming College, Hendrix College, Rhodes College
High Schools: Crete-Monee HS (Ill), Grapevine HS (TX), Father Ryan HS (TN), El Capitan HS (CA), Columbine HS (CO), Kelly Walsh HS (WY), Hagerty HS (FL)
---
What We Do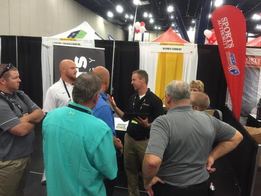 RII Sports Technology is committed to engineering and producing products that will help give football coaches the upper edge every week. We create easy to use interactive tools that can be employed by football coaching staff to analyze both their opponents and themselves with unprecedented speed and insight. We believe that having advanced competitor analysis is the key to giving your team the upper edge and we want to ensure that every team we work with has a higher probability of coming out on top.
---
---
How We Started
| | | |
| --- | --- | --- |
| | After spending years working for high tech organizations, such as NASA, the US Air Force, Lockheed Martin and Boeing, Tom Woods, the founder of RII Sports Technology, wanted to find a way to combine two of his passions together: football, and data. In 2013 the pilot format of our current product lineup was created and after a year of testing and perfecting, RII Sports Technology opened to the public in 2014. | |